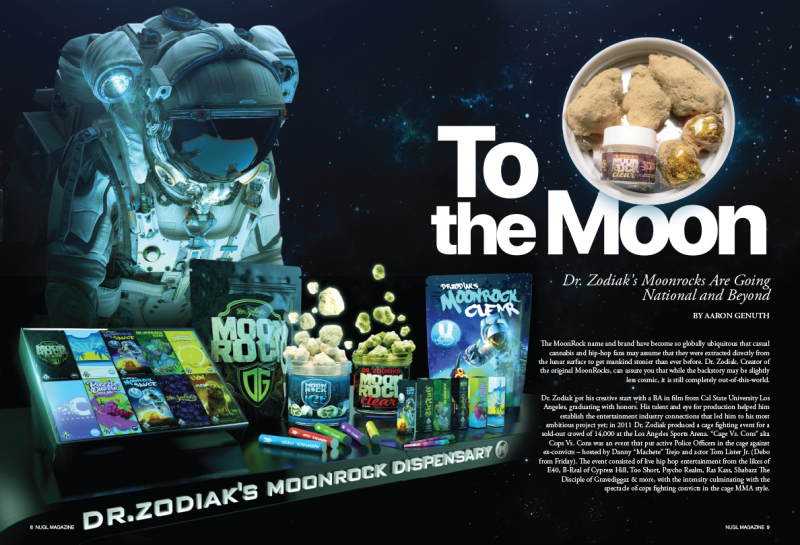 All About Moonrocks and How It Began.
The MoonRocks name and brand became so globally ubiquitous that casual cannabis and hip-hop fans may assume that they were extracted directly from the lunar surface to urge mankind stonier than ever before. Dr. Zodiak, Creator of the first MoonRocks, can assure you that while the backstory could also be slightly less cosmic, it's still completely out-of-this-world.
Dr. Zodiak got his creative start with a BA in film from Cal State University l. a. , graduating with honors. His talent and eye for production helped him establish the show business connections that led him to his most ambitious project yet; in 2011 Dr. Zodiak produced a cage fighting event for a sold-out crowd of 14,000 at the l. a. field house . "Cage Vs. Cons" aka Cops Vs. Cons was an occasion that put active cops within the cage against ex-convicts — hosted by Danny "Machete" Trejo and actor Tom Lister Jr. (Debo from Friday). The event consisted of live hip hop entertainment from the likes of E40, B-Real of Cypress Hill, Too Short, Psycho Realm, Ras Kass, Shabazz The Disciple of Gravediggaz & more, with the intensity culminating with the spectacle of cops fighting convicts within the cage MMA style.
It was at that event that Doctor Z met Kurupt and launched the MoonRock empire with their first line, in 2013. the first MoonRock method involves glazing top shelf indoor flower in cannabis oil (live resin) and dousing it in golden kief, leaving a product with insane 50% and better THC levels. Though often imitated, nobody has managed the viral and global marketing success of Dr. Zodiak's original product, which has now won multiple High Times Cannabis Cup and other prestigious industry awards.